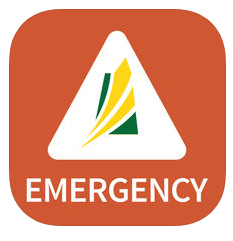 SaskAlert is the Government of Saskatchewan's emergency public alerting program that provides critical information on emergencies in real time, so you can take action to protect yourself, your family and your property. An emergency alert issued though
SaskAlert will:
let you know what the emergency is;
let you know where it is happening;
provide instructions for you to follow to stay safe; and
advise you when the incident is over.
Alerts can be issued by:
Environment Canada,
Government of Saskatchewan ministries,
Crowns and agencies,
as well as participating local governing jurisdictions.
How to get an alert:
SaskAlert Website Visit SaskAlert App
Broadcasters Radio and TV will also issue all critical alerts issued by federal, provincial and local alerting authorities
SaskAlert App – Download the SaskAlert app:

Android devices version 4.2 (KitKat) and higher
iPhone devices version 8 (iOS8) and higher
Call the Saskatchewan Public Safety Agency for more information: (306) 787-3774